Khanyi Mbau is a TV presenter, musician, business woman, socialite and South African actress. Her real birth name is Khanyisile Mbau. She was born on 15 October 1985 in Mofolo, Soweto, South Africa, and was raised by her unmarried mother.
Mbau rose to fame after being cast in Muvhango (her first acting role). Muvhango was a popular soap opera that was released in 1997 and was written by veteran South African journalist Duma ka Ndlovu.
The soap depicted the clash between the then modern S.A. lifestyle of the 1990s as compared to the traditional and sacred lives of Africans. Her other earlier role was as as Mbali in Mzansi, a soap opera by SABC1.
Khanyi Mbau before Bleaching her Skin, Net Worth, Age and Daughter
Who is Khanyi Mbau?
Quick facts about Khanyisile Mbau
| | |
| --- | --- |
| Birth Name | Khanyisile Mbau |
| Famous as | Khanyi Mbau |
| Nicknames | The Queen of Bling |
| Gender | Female |
| Sexuality | Straight |
| Nationality | South African |
| Profession | TV host, actress and socialite |
| Father | Menzi Mcunu |
| Mother | Lynette Sisi Mbau |
| Grandmother | Gladys |
| Grandfather | Babes Mbau |
| Siblings | Lasizwe Dambuza (half-brother) and Thandeka Mcunu (half-sister) |
| Spouse | Mandla Mthembu (divorced) |
| Boyfriend | Kudzai Mushonga |
| Daughter | Khanukani Mbau |
How old is Khanyi Mbau today in 2023?
Khanyi Mbau is 37 years, 11 months and 14 days old on 29 September, 2023.
On Which Day of the Week was She Born?
Khanyi was born on
Tuesday
, October 15th, 1985.
But she would have been born on a Sunday if this year was the year of her birth.
Her Other Age Numbers Since Birth Until This Minute
We can calculate her age in months, weeks, days and years as follows:
Total Years: 37
Total Days: 13,863
Total Months: 455
Total Weeks: 1,980 and 3 days
She celebrates her birthday every year come October 15. Khanyi falls under Libra as her sun sign, and the famous actress was born in the year 1985.
Mbau was born in Florence Nightingale Hospital in Johannesburg but was brought up in Soweto, South Africa.
Khanyi Early Life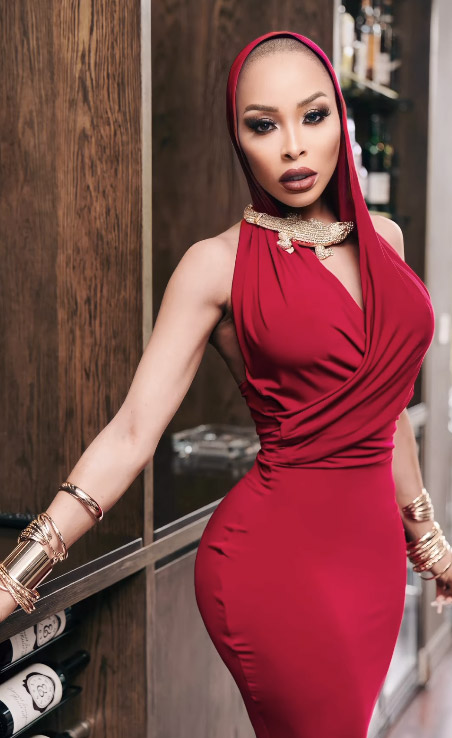 Khanyisile is a daughter to Lynette Sisi Mbau (mother) and Menzi Mcunu (father). Mbau's mum worked in a bank at which time she started dating Menzi Mcunu who was a businessman.
The couple sired Khanyi, even though Menzi was not married to Lynette. Menzi did not claim the child as per the tradition because the child was born out of wedlock. However he still named her Khanyisile, a name from Xhosa origin in South Africa meaning "I have brought light".
Khanyi adopted her mother's surname, Mbau.
The queen of bling (Khanyi) was well nurtured, and her grandparents were more Western according to how they dressed and the way they lived. They were more open-minded than their fellow Soweto people.
Khanyi's grandmother was a good disciplinarian. She would refer to her as Gladys "The Queen of England". Her grandfather, Mr. Babes Mbau, was a great saxophonist who taught his granddaughter to play the saxophone. She must have enjoyed her childhood.
At a tender age, Lynette (Khanyi's mum) left the baby with her parents who lived in Mofolo, Soweto to go back to work. As a result, Khanyi was mostly raised by her grandmother whose name was Gladys.
Her Siblings
The famous South African actress has half-siblings who are called Lasizwe Dambuza (half-brother) and Thandeka Mcunu (half-sister). Thulasizwe Siphiwe Dambuza is famously known as Lasizwe. He is a social media influencer especially on YouTube, and he's also an actor and a TV presenter.
Khanyi's half-sister is Thandeka Mcunu, a TV personality, businesswoman, socialite, actress and a mother of four.
Khanyi's Daughter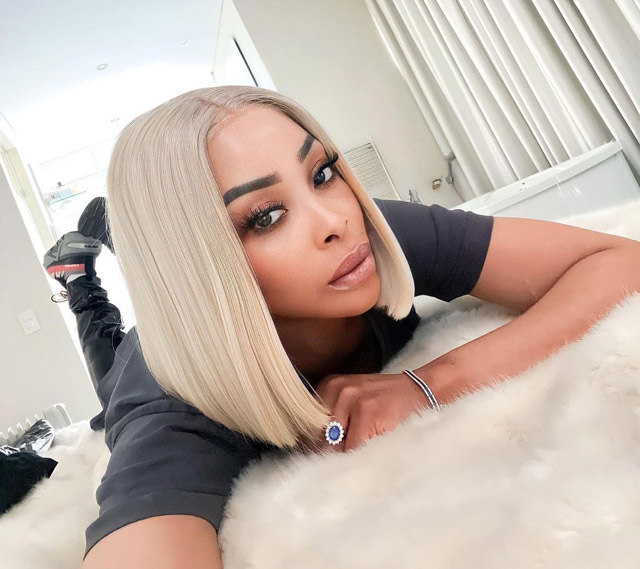 Khanukani Mbau, famously known as Khanz, is the daughter to public figure Mandla Mthembu and Khanyi Mbau. She was born in 2006 and she is a content creator and social media influencer. On TikTok, Khanyi's daughter has a lot of subscribers.
Although Khanz is still in her teenage, her mum feels that it is right for her to leave alone in her apartment. She leaves next door to her mother's house. This kind of parenting raised a lot of questions from her fellow cast members of Young Famous & African.
They were rumors that Khanz is pregnant but Khanyi fired all the rumors.
Her Career
Khanyi has been in the industry for quite a long time and she has done pretty well. Her career revolves around Television, radio and film, and she's is also into business.
In 2004 she featured on a South African television soap opera called "Muvhang". She replaced Lindiwe Chibi and for this she gained a lot of fame too. In the soap, Mbau played Doobsie.
Later she joined SABC 1 (South African Broadcasting Corporation) on a hit drama series called "Mzansi" as Mbali. Mbau became the guest judge of SABC 1 in 2012, and in the same year in the month of August Khanyi released her own biography titled "Bitch, Please! I'm Khanyi Mbau" which was done by Lesley Mofokeng, a journalist.
In 2018 Khanyi landed in a new drama series called Abomama which was released by Mzansi Magic. Mzansi Magic is a South African digital satellite channel that is broadcast on DSTV and which was created by Multichoice. On this show, Kyanyi Mbau acted as Tshidi.
The show made its first debut with over a million views. This made it the 3rd most watched show on DSTV.
Khanyi on Netflix's Young, Famous & African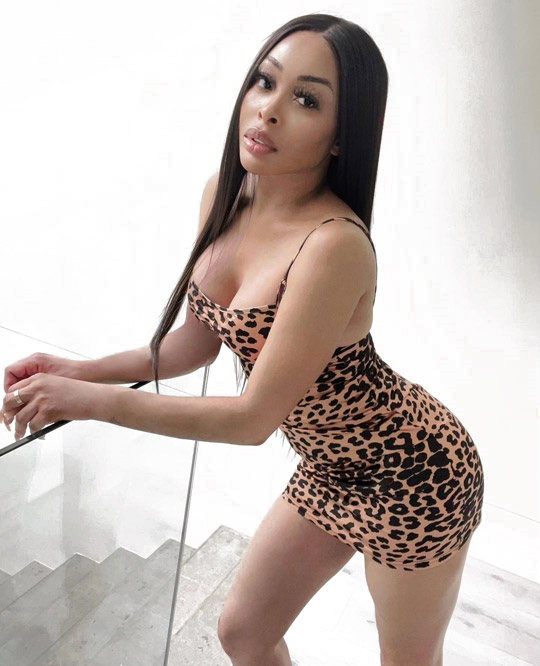 Khanyi has done a lot on television including the new reality show on Netflix, Young, Famous & African. She has starred alonside famous African stars like Annie Macaulay-Idibia, Zari Hassan, Diamond Platnumz, Andile Ncube, Khanyi Mbau, Naked DJ, Nadia Nakai, Swanky Jerry, 2Baba and Kayleigh Schwark among others.
On radio, she was the host of "Whose show is it anyway" on Metro FM, and which she aired alongside Somizi Mhlongo and Ntombi Ngcobo. The radio show was aired for a year, before the reshuffling of the radio station brought it to an abrupt end in 2016.
In the film industry, Mbau made her first debut on "Happiness is a four-letter Word" in 2016 and played Zaza. Her second acting role was in the year 2018, on the movie "The Red Room", a thriller set for cinema release.
In 2017, she began production with Leon Schuster, a filmmaker, on "Frank and Fearless". This film was also set for cinema release.
In 2018 she launched her own brand of gin known as I AM Khanyi-Millennial Shimmer Gin.
Brand endorsement
Khanyi has been the brand ambassador for Slimatone. This is a weightloss supplement manufactued in South Africa. She has also been named brand ambassador of Samsung, Puma and Absolute. This is in addition to appearing in multiple adverts.
Khanyi Skin Bleaching
Khanyi has been sharing her skin bleaching process. She has this desire of turning her dark complexion to white so she has been slowly working on it. At some point she referred to her skin bleaching as the "Same way you bleach your hair, wear a blonde wig, add eye lashes to your African eyelid or add extensions to your naturally short African hair".
Her Net worth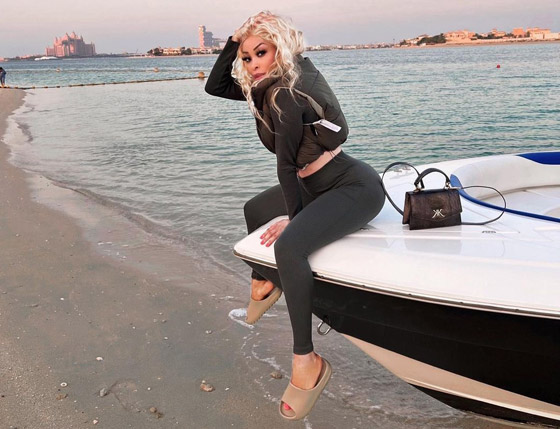 Khanyi's net worth income as of 2023 is estimated to be $10 million. Her sources of income include hosting a radio talk show, business, TV shows and music.
Talking about music, her thirteen-year-old songs "Dunusa" and "Igwinya" have gone viral on TikTok.
Khanyi's Filmography
| Name of Show | Character/ As |
| --- | --- |
| Katch it with Khanyi | Khanyi |
| After 9 | Zee |
| Ashes to Ashes | Pinki |
| Muvhango | Doobsie |
| Like father like son | Sindisiwe Sibeko |
| I AM Khanyi | Khanyi |
| Ekasi (our stories) |  Thabiso |
| AYeYe | Thenjiwe |
| Check Coast | |
| The Scoop | Khanyi |
| Uzalo | Dinekile aka lady die |
| Mzansi | Mbali |
| Mzansi Love – Kasi Love | Kgomotso |
| Mzansi Love: Big City Love | Lebo Kgosi |
| My perfect family | Khanyi |
| Scandal | Katlego |
| Skwizas | Mimi |
| Reality Check | Khanyi |
| Happiness is a four-letter word | Zaza |
| Turn it Out – Street Battle | Khanyi |
| Tropic Island of Treasure – Thailand | Khanyi |
| The South African Music Awards | Khanyi/ Host/ presenter |
| The Lab | Kgomotso/ Busi |
| The Comedy Central Roast | Roaster (Khanyi) |
| Strictly Come Dancing | Celebrity dancer (Khanyi) |
| The Close Up | Khanyi |
| Happiness Ever After | Zaza |
| Young Famous & African | Khanyi |
| The Wife | Zandile Zulu |
Awards and Nominations
Khanyi has scooped various awards. In 2009, she obtained the Drama Queen of the Year award. She was  also given an award during the Feather Awards 2015, and during Channel24 Online Award she won Best Instagram Account.
During African Magic Viewer's Choice (2017) awards, Khanyi bagged Best Supporting Actress for her role in "Happiness is a four-letter word". She has also attained Media Personality Award during Oliver Empowerment. In 2019 she was a nominee of Red Room and won the Best Actress.
Her Social Media Profiles
On Instagram she is found at @mbaureloaded, and her YouTube channel is @khanyimbau3528
Please Share On Your Favorite Social Media!