Diamond Platnumz is a bongo flava recording artist, philanthropist, dancer and a well-known businessman who was born in Tanzania in East Africa. Platnumz was born on October 2, 1989 in Tandale, Dar es Salaam in Tanzania. He hails from Kigoma, a village in Tanzania.
His real name is Naseeb Abdul Juma Isaack. But he has many nicknames, the most famous being Diamond Platnumz. Diamond Platnumz's other popular nicknames are The King of Bongo Flava, Simba, Father Abraham, Baba Lao, Drogba and Chibu Dangote.
Diamond Platnumz Age, Family, Music and Biography
Summary Info of Diamond Platnumz
| | |
| --- | --- |
| Full Name | Naseeb Abdul Juma Isaack |
| Popular Name | Diamond Platnumz |
| Date of birth | October 2 1989 |
| Height | 5 feet 8 inches |
| Weight | 68 kg |
| Eye color | Black |
| Race | Black |
| Tattoos | Yes |
| Religion | Islam |
| Nationality | Tanzanian |
| Ethnicity | African descent |
| Sexual Orientation | Straight |
| Zodiac Sign | Libra |
Diamond Platnumz falls under Libra as his sun sign. He lives in Dar es Salaam in Tanzania. He is a businessman who owns Wasafi Bet, Wasafi Media and he is the CEO and founder of WCB Wasafi Record Label. Sallam SK Mendez is his manager.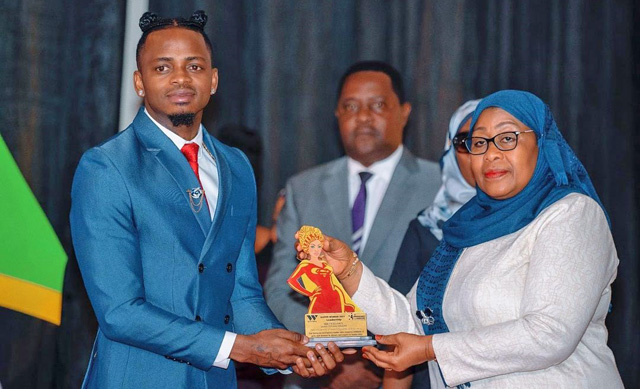 How old is Diamond Platnumz today in 2023?
Diamond Platnumz is 33 years, 11 months and 27 days old on 29 September, 2023.
On Which Day of the Week was He Born?
Diamond was born on
Monday
, October 2nd, 1989.
But he would have been born on a Monday if this year was the year of his birth.
His Other Age Numbers Since Birth Until This Minute
We can calculate his age in months, weeks, days and years as follows:
Total Years: 33
Total Days: 12,415
Total Months: 407
Total Weeks: 1,773 and 4 days
Diamond Platnumz Family Background
| | |
| --- | --- |
| Father | Salum Iddi Nyange (Deceased) |
| Mother | Sanura Kassim/ Sanura Kasimu (famously known as Bi. Sandra) |
| Sister | Queen Darleen (musician) & Esma Platnumz (a socialite and an entrepreneur) |
| Ex Step farther | Mzee Abdul Naseeb Juma |
| Step Brother | Ricardo Momo |
| Father in law (Ex) | Nasur Hassan |
| Mother in law (Ex) | Halima Hassan |
| Brother in law (Ex) | Abdul Karim Hassan |
| Cousin | Romeo Abdul aka Romy Jones (a DJ and a socialite) |
Many people used to think that Mzee Abdul Juma is his father. But Diamond Platnumz's mother, Sandra, recently revealed that Mzee Abdul Juma is not the biological father as it was initially known. Salum Iddi Nyange is Diamond Platnumz's biological dad.
Bi. Sandra went ahead and said that she got married to Mzee Abdul when she was already pregnant by Salum. This astonishing revelation happened on Wasafi FM radio during a live phone call. On the other hand Platnumz said that he knew his biological dad back in 2000 when his cousin Romy Jones' mother suggested that Salum Iddi was his father.
The Bongo flava artist said that "Mum showed me Nyange pictures, and upon looking at them, I was convinced that I looked like Nyange than Abdul." However, Mzee Nyange is said to have died in 2004.
What is Unique about Diamond Platnumz?
Diamond Platnumz has several unique features on his body that have become associated with the Tanzanian musician.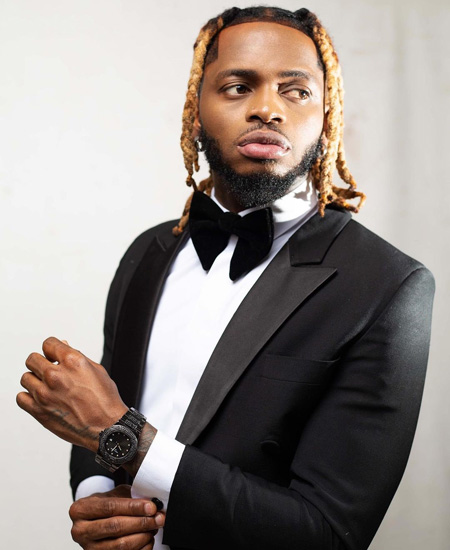 Tattoos- he has seven tattoos engraved on his body
Lyrical tattoo of his song (Nenda Kamwambie) on his arm
Sandra tattoo this is such a love towards his mom, she must be a proud mum!
7th, 7, 1967 beautifully written in roman letters, it's his mother's date of birth. The love to his mom is on another level wow! She was born on 7th July 1967
Faith tattoo- I believe in God, it's written on the chest
Simba (Lion) tattoo this is on his right arm signifying that he's the king of Bongo flava music just like the lion is the king of jungle. Maybe he also went for this one to please his funs who call him Simba(lion)
N,T,N and D letters the first N may be representing his real name Nasib,other letters maybe his four kids Tiffah, Nillan and Dylan
Black rose tattoo it maybe representing his lost love with his baby mamas
He has a muscular physique
Cropped dreadlocked hair
He wears ear studs for men
Diamond Platnumz Children
The "Yatapita" hit maker is a father of four biological children, namely;
Latifah Dangote
Naseeb Junior
Prince Nillan
Dylan Abdul Naseeb
Diamond Platnumz Relationships

Zari and Diamond
Platnumz was in a relationship with Zari Hassan. She is a Ugandan socialite, media personality and a businesswoman. Zari's official name is Zarinah Hassan. This was one of Diamond Platnumz's most famous relationships that was always in the media.
Diamond and Zari had been in the relationship from 2014 to 2018 when they broke up. Zari Hassan is eight years older than Diamond and despite the breakup the two are good friends.
Zari Hassan appears in the TV series Young Famous and African. They have two children, Latifah Dangote who is their first born daughter, and Prince Nillan who is their son. The duo are said to be co-parenting.
Diamond Platnumz and Hamisa Mobetto
Hamisa Mobetto is a Tanzanian model. Diamond and Hamisa were in a short term relationship. Platnumz started dating Mobetto in 2017 while he was still in a relationship with Zari Hassan. However, Diamond's relationship with Hamisa Mobetto ended in 2019.
The duo sired a child by the name Dylan Abdul Naseeb, and the birth of the boy made Diamond Platnumz a father of three. Later on Diamond and Mobetto separated and it is believed that they are into co-parenting.
Tanasha Donna and Platnumz
Tanasha Donna is a Kenyan musician and a model. Diamond and Tanasha did a song together called Gere back in 2020. But their relationship started in 2019 and they have a son who is known as Naseeb Junior. However, Diamond Platnumz and Tanasha Donna broke up in 2020.
Zuchu and Diamond Platnumz
Zuchu is a Tanzanian songwriter and musician. Her real names are Zuhura Othman Soud. Zuchu was born in Zanzibar. The famous "Sukari" (sugar) hit maker is signed to WCB Wasafi records and she lives in Dar es Salaam. Diamond and Zuchu are rumored to be in a relationship for about a year. Indeed, the relationship seemed to be sailing fairly well in early February 2023 during Valentine's Day.
On that day, Zuchu posted a handwritten letter sent to her by Chibu (Diamond). Esma Platnumz (Diamonds sister) commented on the post addressing her as the bride to be.
During Juma Jux's event in 2022, Diamond had confirmed that Zuhura was his wife. The famous "KwiKwi" singer gifted Diamond a gold chain worth Ksh 1.5 million. Later on Zuhura posted on Snapchat that she is single and that no one should tag her "his bull***t", meaning that she has nothing to do with the "Jeje" hit maker.
The WCB CEO confirmed the breakup stating that currently the duo are like brother and sister and that anyone wishing to try their luck must meet the requirements.
Diamond Platnumz Family
Diamond was born by Sanura Kasimu/ Sanura Kasimu (mother) and Salum Iddi Nyange (biological father). His siblings are Queen Darleen who is also a musician and Esma Platnumz who is a socialite and an entrepreneur.
His cousin is known as Romeo Abdul Jones and is a Tanzanian socialite and a DJ.
Naseeb Abdul Juma Isaack Brand Ambassador Endorsements
Diamond Platnumz is a popular musician who has been named brand ambassador for the following brands:
Pepsi(East Africa)
Airtel
Itel phones(Tanzania)
Nice One(a washing detergent in Tanzania)
Parimatch( a betting company in Tanzania)
Coral Paints(Tanzania)
Awards
Similarly, the famous musician has won many awards during his lengthy musical career. The following are the awards Diamond has been nominated for and won.
Nzumari Awards
Top Ten Tube Music Awards
MTV Europe Music Awards
The Future Africa Awards
Hipipo Music Awards
MTV Africa Music Awards
African Muzik Magazine Awards
Bet Awards
Tanzania Music Awards
AFRIMMA Awards
IRAWMA Awards
HIRONIMO MHAPA Awards
Diamond Platnumz Social Profiles
Fans can get the latest about Diamond Platnumz through the following social media pages:
One can also listen, watch or follow Diamond Platnumz music on Apps like Spotify, YouTube, Apple music and Deezer
Diamond Platnumz Net Worth
As of 2023 Diamond Platnumz income is estimated to be more than $10 million. He is the most paid artist in Tanzania and across East Africa he appears to be one of the best paid. Diamond's main source of income is from his radio station, television and his music career.
Diamond Platnumz Discography
| Albums | Year |
| --- | --- |
| Kamwambie | 2010 |
| Lala Salama | 2012 |
| A Boy from Tandale | 2018 |
| First of All | 2022 |
Platnumz has Featured in
| Title | Year |
| --- | --- |
| Wasted Energy (Alicia Keys ft. Diamond Platnumz) | 2020 |
| Penzi (Ya Levis ft. Diamond Platnumz) | |
| Moto (Wawa Salegy ft. Diamond Platnumz) | 2019 |
| "Yope" Remix (Innoss'B ft. Diamond Platnumz) | |
| "My Way" Remix (Stanley Enow ft. Diamond Platnumz) | |
| "Love you Die" (Patoranking ft. Diamond Platnumz) | 2017 |
Diamond Platnumz Collaborations and Single hits
Kamwambie
Mbagala
Binadam
Wakunesanesa
Nitarejea (ft. Hawa)
Si Uko Tayari
Nalia Na Mengi (ft. Chid Benz)
Jisachi (ft.Ngwair & Geez Mabovu)
Nakupa Moyo Wangu (ft. Mr. Blue)
Wivuwivu (ft. RJ the Dj)
I Hate You (ft. Hemedy PHD)
Toka Mwanzo (ft.Fatma & RJ the Dj)
Lala Salama
Chanda Chema
Nimpende nani
Moyo Wangu
Najua
Kwanini
Mawazo
Natamani
Kizaizi
Gongo La Mboto (ft.Mrisho Mpoto)
Hallelujah (ft. Morgan Heritage)
Waka (ft. Rick Ross)
Kosa Langu
Pamela (ft. Young Killer)
Baikoko
Lyena
Nikuone
Baila
Sijaona
Eneka
Fire (ft. Tiwa Savage)
African Beauty
Marry you (ft. Ne-yo)
Number One remix (ft. Davido)
Kidogo (ft.P-Square)
Nana (ft. Flavour)
Amanda (ft. Jah Prayzah)
Far Away (ft. Vanessa Mdee)
The One
Jibebe (ft Lava Lava & Mbosso)
Kanyaga
Baba Lao
Inama (ft. Fally Ipupa)
Gere (ft. Tanasha Donna)
Jeje
Sound (ft. Teni)
Hainisumbui
Ongeza
Waah (ft. Koffi Olomide)
Fresh (ft. Pabi Cooper & Focalistic)
Melody (ft. Jayzwillz)
Oka (ft. Mbosso)
Loyal
Nawaza
Sona (ft. Adekunle Gold)
Mtasubiri (ft. Zuchu)
Wonder
Fine
Somebody
Yatapita
Down
Wivu
Zuwena
My Baby
Please Share On Your Favorite Social Media!