A honeymoon is an event that takes place after the newlyweds are done with their wedding ceremony. It is vacation taken by the couple to celebrate. Thankfully, there are great and famous honeymoon destinations all over the world.
Honeymoon trips involve a lot of sweet and memorable moments. For sure, planning a wedding event can sometimes be stressful but with the following great honeymoon destinations, it can be fun to unwind and enjoy each other's company. After all, it will last lifetime.
Going for best honeymoon destinations can really be a classy catch event and a good step as you begin your marriage life. Let's browse some of these great honeymoon destinations:
Famous Honeymoon Destinations in the World
Santorini (Greece) is a Famous Honeymoon Destination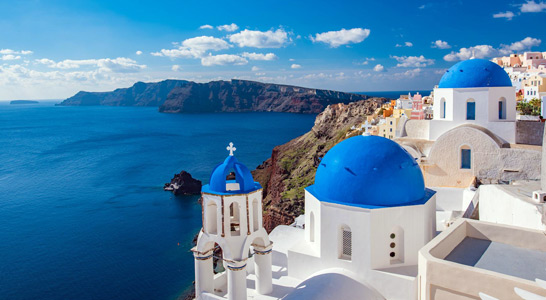 Santorini is a Cyclades island in the Aegean Sea that was  formed by volcanic eruption back in the 16th century BC, it's forever shaping its landscape.
The island is also referred as "Thera" when eruption occurred left a very large caldera surrounded by volcanic ash. The name Santorini was given by Latin Empire reference to Saint Irene from old cathedral in the village of Perissa.
Best things to do in Santorini are:
1. Taste their wine
Santorini is a proud home to a flourishing wine industry. The winemakers of Santorini are award holders of indigenous Assyrtiko, Aidani,  and red varieties of wine such as Mavrotragano and Mandilaria.
You can also watch the sunset and taste at least ten glasses of different flavors of celebrated wines, as well as take a glance at the beautiful landscapes of Santorini as you move around the three outstanding wineries on a four-hour sunset tour.
There's nothing that beats drinking fine wine and feeling great on this famous honeymoon destination.
2. Go for Photo-shoots
Well, Santorini is magical you got to experience a great photo-shoot unlike any other. You can hire a flying dress (a dress designed to have a long train and usually made from satin or chiffon. When "thrown" in the wind, it is captured in photos as if the wearer is flying and the wind blowing it), of which they have a large variety to choose from, and they come in many colors.
There are long dresses you can try, about six dresses, one to two days before a photo shoot.
It is recommended that one gets a professional photographer, then visit the magical sites like the volcanic rock formation of the caldera, the Aegean Sea, the narrow winding streets among others. Remember to check for a perfect sunrise and sunset for great photographs.
Enjoy to the fullest!
Paris, France is a Top Honeymoon Destination
Ever heard of Parisian's being romantic? Oh, yes it's true. These guys are romantic by nature. The city has a few nicknames like the city of love, city of Haute Couture (translating to "high sewing"), and city of light Parigot, and Paname, among others.
Paris is well known for having great and popular tourist destinations for visitors from all over the world. It is a city with great art, culture, fashion and romance.
Well, being in this city of love it's a sure bet and there is no scarcity of lovely and romantic things to do during your honeymoon.
The best things to do in Paris include:
1. Visit Disney Park
Enjoy magical experiences and exciting adventures at Disneyland Park, Walt Disney Studio Park, and Disney village among other themed hotels. But remember that Disney, though famous for cartoons and animated movies such as Winnie the Pooh, is not for kids only.
Here you can meet your favorite character the likes of Rapunzel, Sleeping Beauty and Cinderella. While in Walt Disney studio Park you can get close to Goofy, Spiderman and Buzz Lightyear, the fictional character in the Toy Story franchise.
Before you leave Disney, you have to meet the mouse Mickey! He'll be waiting to give you a huge hug in Fantasyland at Disneyland.
Enjoy the shows and colorful parades. You can go shopping at Disney village, as there is a wide range of shops to buy  stuff from, including the LEGO store. Entertainment is also available until the evening. With or without a table, you can eat snacks, and enjoy their buffets and delicious meals.
Visitors to Disneyland Paris enjoy wrapping up their day while watching Illuminations, a show that airs every night The show is unforgettable since you get a clear viewing spot in front of Sleeping Beauty Castle.
Here you will get a good chance to watch your favorite Disney movies the likes of Star Wars, Beauty and the Beast, The Lion King, Pirates of the Caribbean and Frozen. There are lots of spectacular fireworks, lasers, dancing water fountains and mists  to see!
There's a lot to explore in Disneyland Paris, France during your honeymoon.
2. Climb The Eiffel Tower
The Eiffel tower is known to be the landmark of this city of lights. Millions of people have visited the iron structure monument, thus making it one of the most visited structures in Europe. It's located in 7th district on the Champs de Mars at 5th Avenue Anatole Paris.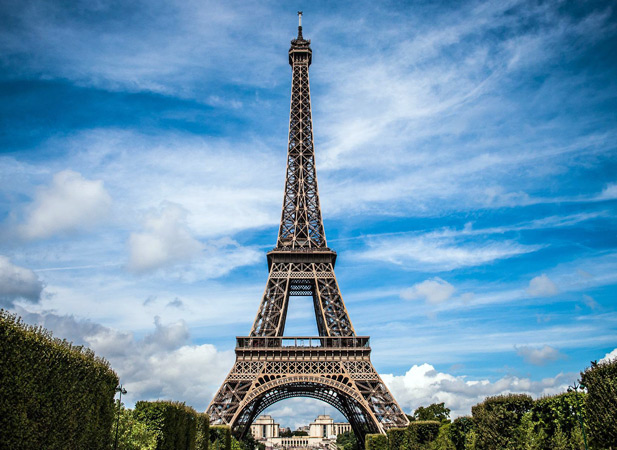 Gustave Eiffel was the one who constructed the tower in the year 1988. It is the tallest tower and it is great in size as well.
They are many different restaurants inside the tower where you can enjoy your meal or a toast to your love. Romance can begin here as you enjoy sipping your champagne on top of Eiffel tower with your boo.
Some people prefer to enjoy their visit to the tower during the night when it's calmer with illuminations sparkling everywhere. This must be a haven of romance!
Around the tower there are several tourist activities. These include getting into a boat cruise and enjoying the ride at river Seine while seated. One can take some photos, enjoy watching Paris tower at a distance, and see the bridges and islands among other great scenic views.
3. Visit "The Wall of Love" (Le mur des je t'aime)
This a hub for lovers with eternal admiration located in Garden Square in Montmartre, Paris. This artwork was done by Frederic Baron and Claire Kito back in the year 2000.
It features 'I love you 'words in 311 languages, inclusive of 192 languages of the United Nations. Claire and Baron began this artistic work by inquiring from foreigners and visiting neighbors, asking them to write 'I love you' in their language.
They got the words in more than 300 languages.
This was noted down on a notebook and later thought of as a brilliant idea – putting this language of love on the wall, and wished that it would speak of beautiful human feelings.
There are red splashes on the wall meaning a broken heart can be mend to form a full heart again. Now this is the power of love!
When to visit the Wall of Love:
Monday to Friday from 8:00 you can visit and view the love themed wall. It's always open for public. Closing depends with the season.
The best time to go for a Parisian honeymoon is during spring on March and April, or on fall i.e. on September to mid-November. During Summer Paris can be crowded, and Winter can be cozy, although the weather can be bad thus, making days longer. But the best thing during this cold season is that there's a lot of offers and great accommodation.
Seychelles is one of the most Popular Honeymoon Destinations
Seychelles is one of the countries in East Africa, in the Indian Ocean at the Eastern edge of Somali Sea. The country has a collection of 115 islands: some are coral while others are granite.
The island country is one of the best places to visit in Africa. Victoria is the largest city in Seychelles, which in real sense appears to be the world's smallest capital. This city is allocated on the Eastern side of Mahe Island.
Their currency is Rupee. Note that there's no alcohol consumption in public and visitors need to make sure any kind of Coco de Mer (an endangeared sea coconut that resembles human genitals and that is used in ayurveda medicine) they buy has a government seal and an export license to leave with it.
There's a lot to choose from when it comes to honeymoon destinations in Seychelles, and the list is endless. The following are the most attractive destinations in Seychelles:
1. Eden Island
The island is owned by Mahe Port Island that was created in 2000s. Eden Island has bars and restaurants, swimming pools, child friendly areas, a world class shopping Centre and exotic beaches and casinos.
In Eden you can unwind, relax and feel youthful again by soaking yourself in crystal clear water or having fun on the sandy beaches.
There are shops that sell local commodities and everyday essentials at clubhouse. There is a supermarket, ATMs and pharmacies in case you need medicine.
If you are a guest on the island you will have your own electric golf cart and a charging point that makes it easier if you're on a picnic. Here you will enjoy your stay every bit of it.
2. Curieuse Island
Curieuse Island is in the list of most popular and best Seychelles honeymoon destinations. It has a red soil background which makes it great for a photoshoot away from the norm of white and blue background.
Curieuse is located North Coast of Praslin Island. It's a one of a kind island that is famous for Coco de mer palms growing. The island has a marine park on its own.
If you love beaches then this is one of the best places for your honeymoon. There are a wide variety of beaches to choose from, including Cote d'or beach, Anse la Reunion beach, Takamaka beach, sunset beach, and coco beach.
Other fantastic places to visit are Copolia trail, Seychelles National Botanical Gardens, Moyenne Island and Morne Blanc.
Popular Honeymoon Destinations in The Maldives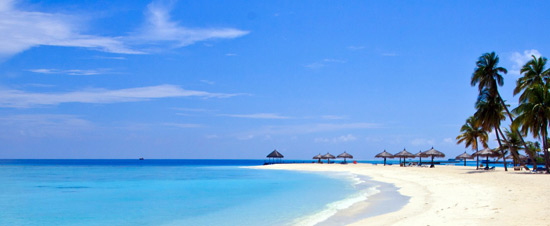 Maldives is found in the Indian Ocean, Southwest of Sri Lanka. It is one of the world's most beautiful islands. Maldives has a combination of various islands, located from each other. Most of the beaches are human untouched.
As a couple you can have some quality time without distractions, dip into azure colored waters all alone in the island. It may sound weird but it is great fun, especially if you don't like crowds. This is how you secure privacy if you need to.
Best activities to do in Maldives
Visit "sea of stars" on Vaadhoo Island
Scuba diving at Maaya Thila
Have a soothing overwater stay at a bungalow in Laamu Atoll
Have a dolphin watching tour
Take a helicopter trip
Sky dive in Maldives
Paraskiing
Fishing
Enjoy watching sunset cruise with your love
Kitesurfing
Enjoy watching a movie night at Jungle Cinema
Mauritius is one of the Famous Honeymoon Destinations
This island country is located off the Southeastern coast of Africa in the Indian Ocean. Its capital city is Port Louis, and its legit name is Republic of Mauritius.
Things to do for honeymoon in Mauritius
Rent a car and explore the broad coastal roads
Shop as a local
Taste their street delicacies
Visit Le Morne Brabant
Visit Black river Gorges National park
Enjoy colored blue waters of Tamarin Bay and swim with dolphins
Scuba diving
Go snorkeling
Visit Albion caves
Meet the lions at Casela Park
Horse riding
Zip line at Vallee Des Couleurs
Say yes I do in a unique-way underwater wedding
Lose yourself in a magnificent beauty of Riambel Beach as you watch the sunset
All you need in order to visit these great honeymoon destinations is to say is yes I do! You get to explore these destinations and live to remember how your honeymoon was one of a kind.
Note that in order to visit these best honeymoon destinations during this pandemic time, one might be required to be fully vaccinated, wear masks, and observe social distancing. Therefore it is of great importance to check the government protocols before visiting any of these lovely places.
Please Share On Your Favorite Social Media!