Tessa Thompson is an American actress who began acting professionally while studying at Santa Monica College. Her first acts were with the Los Angeles Women's Shakespeare Company and include productions of Romeo and Juliet and The Tempest. She has played leading roles in several films, most notably Mississippi Damned in 2009 and For Colored Girls in 2010.
Tessa Thompson was born on 3 October 1983 in Los Angeles, California, U.S.A. Her full name is Tessa Lynne Thompson. Other movies and TV shows that Tessa has appeared in include recent Marvel movies Thor: Ragnarok, Avengers: Endgame, and Thor: Love and Thunder.
She also appears in the comedy-drama Dear White People, the historical drama Selma, the sport drama franchise Creed, and the movie Men in Black: International.
Tessa Thompson: American Actress Profile and Movies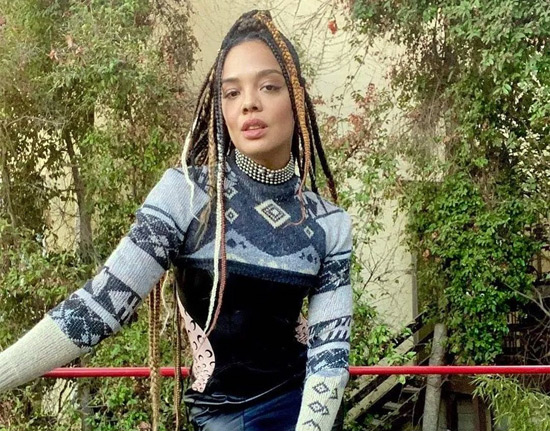 Actress Summary
| | |
| --- | --- |
| Full name | Tessa Lynne Thompson |
| Popular Name | Tessa Thompson |
| Date of birth | 3 October 1983 |
| Height | 1.62 m |
| Weight | About 55 kg |
| Ethnicity | Afro-Panamanian, Mexican and British Isles ancestry |
| Place of Birth | Los Angeles, California, U.S.A |
| Nationality | American |
| Region | America |
| Career/ Occupation | Actress |
| Religion | Christian |
| Social Media | Instagram, Twitter |
| Famous Movies and TV | Men in Black: International (2019), Dear White People (2014), Creed (2015), Creed II (2018), Creed III (2023), Thor: Ragnarok (2017), Avengers: Endgame (2019), Thor: Love and Thunder (2022), Selma (2014) |
How Old is Tessa Thompson Today?
Tessa Thompson is 39 years, 5 months and 23 days old.
Her Zodiac Sign is Libra according to Western Astrology, but in Chinese Zodiac she was born in the Year of the Pig.
On Which Day of the Week was Tessa Thompson Born?
Tessa Thompson was born on
Monday
, October 3rd, 1983.
But she would have been born on a Tuesday if this year was the year of her birth.
Her Other Age Numbers Since Birth Until This Minute
We can calculate her age in months, weeks, days and years as follows:
Total Years: 39
Total Days: 14,419
Total Months: 473
Total Weeks: 2,059 and 6 days
Please Share On Your Favorite Social Media!